FMLA + Absence Management
See how our administrative services can benefit your organization.

Give us a call today at 513.351.1222 or click here to contact us for to a quote.
Not in the mood to chat right now? Click here to schedule a demo.
FMLA + Leave of Absence Management:
Understanding, let alone managing, Family Medical Leave Act (FMLA) can be a full-time job for HR Professionals.
Administering a company's leave program can put additional strain on already lean HR teams short on time and resources. FMLA management requires constant vigilance and communication to adhere to all the complex laws, responsibilities, and tracking.
Ascent acts as an extension of your risk department to relieve administrative burden, safeguard compliance, and ensure your employees receive their entitled benefits. We provide:
Single Point of Management
Small caseloads, clear communication, true partnership approach.
 ownership and accountability.
Documentation Management
            Paperwork and leave tracking from start to finish.
Custom Solutions
Nimble structure, client-centered, and flexible.
Sophisticated Technology
Paperless workflow, user-friendly portals, secured data.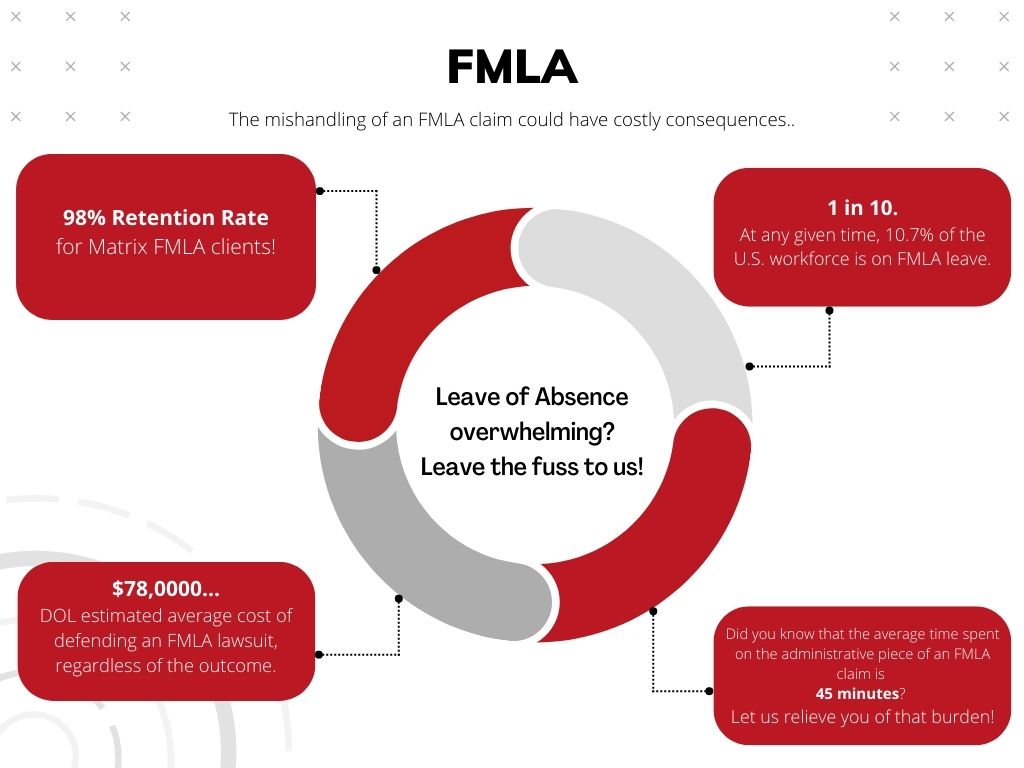 Our Solution
·       Relieve the administrative burden with an experienced Account Manager who will act as single point of contact. This model allows us to provide ownership and accountability to your team.
·       State of the art software with real-time visibility into cases.
  o   Tracking, reporting, status updates, documentation
  o   Reports built and tailored to your specifications directly
  o   Red Flag Detection for requests outside of certification parameters, exhausted leaves, fraudulent claims, and issues identified immediately.
·         Reduce Liability
o   Legal Review of FMLA Policy
o   Ensure compliance with federal and state processes: we handle all paperwork- sending, receiving, reviewing + securely storing
o   Capture more FMLA eligible cases and apply FMLA to all applicable workers' compensation claims.
·       Physician on staff if further clarification or information is needed for approval.
·       Case management from intake through full duty return, light duty, ADA accommodation, recertification, STD/LTD, etc.
Additional Leave of Absence administration that Ascent provides:
Short Term Disability

Military Leave

Bereavement

Personal Medical Leave